Miles Traveled: 316.7
Elevation Change: +2,690ft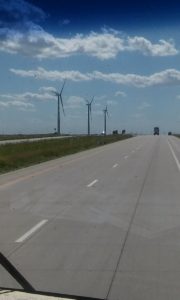 We traveled across most of Kansas on I-70 today. There were plenty of rest areas; a few of which we used for bathroom breaks and lunch. We met a trucker and his dog named Tammy who wanted to play with Daisy very badly. We imagined that he named her Tammy after his ex wife.
I-70 was in good condition besides a few places with construction. We ran into a pretty stiff headwind in the afternoon which ate into our mileage. The RV often downshifted out of overdrive even on flat ground. The next day, I calculated that our usual 6.5 mpg was reduced to 4.5. The wind was actually bad enough to push the driver's mirror out of alignment. I tightened it with a hex wrench and didn't have any more issues.
We dry camped in the Walmart parking lot at Goodland, KS. We called ahead to make sure that they allow overnight parking. There was one other RV in the lot and one or two semi trucks. Plenty of space for us to park over at the side of the lot and stay the night. We easily made it through the night with our onboard water, gas, and house batteries. A little road noise, but not a bad sleep at all.